Are you thinking of running a Barn Dance or Ceilidh (pronounced Kaylee)? We will give you help and advice to make it an enjoyable, stress free and successful occasion.
A Barn Dance /Ceilidh is ideal for weddings, birthday parties, anniversaries or any other celebration….it gives people of all ages the opportunity to join in, enables everyone to become a part of the whole event and above all is FUN!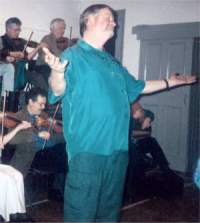 We can provide high quality Bands, Callers, Singers and Entertainers etc, as well as a FREE check list to help you plan your event. (Eg provision of a bar, including special extension outside permitted hours licence, Health and Safety obligations, Caterers and hygiene regulations, and lots more you have probably never thought of….fear not!… we have and we'll sort it with you.)
The Sunshine Arts Team has, jointly, over 80 years experience in organising and running these types of occasions……and we still love doing it!…so contact us for any help you need.