DANCE CALLING
---
Definition of 'Caller'….working as an animateur for social folk dances, i.e. teaching the dances, and 'calling' them whilst they are danced as well as deciding on the dance programme and working with the band. The Caller is often also responsible for running the whole event, liaising with the organisers and any other artists who may be performing, acting as MC etc…
Dave is widely recognised as one of the top callers in the country and has been a dance caller for over thirty years. He has worked with nearly 200 different bands! …including all the main English style folk dance bands in the country (see listing at Bands).
The work has been in a very wide variety of situations, including all the major folk festivals, (some in Continental Europe) regular ceilidh series, weddings and other celebrations, community events and even some ceilidhs for unicyclists! (Yes…they did it on the unicycles!)
Dave can also call in French.
One of the seminal bands of the English Dance Revival in the mid-1970's was the renowned Old Swan Band, (who are still active and much admired) and Dave has been their resident caller since 1977. He has been influential in the re-introduction of many traditional dances…particularly those with associated 'stepping'
Since 1985 he has also been resident caller with the highly respected
Old Hat, and is still very busy calling at festivals and other events nationwide.
Dave is well known for his very clear and effective explanation of any dances, and for his ability to encourage 'beginners' at any type of event…. after all…. it's meant to be FUN!
During the last three decades he has written dozens of dances…many of which have become extremely popular with the dancers, as well as having been taken up by many other callers.
Callers Workshops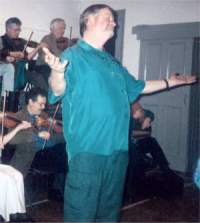 Dave has often run callers workshops ….aimed at new or potential callers.
The workshops can be a simple discussion and advice session, but preferably a practical experience using live music, giving would-be callers a chance to 'have a go' at calling for real dancers!….(these of course will usually be the other people involved in the workshop…not the 'public'!). Lots of help and encouragement will be given…and thirty+ years experience shared.
Dance for Beginners
Practical sessions for inexperienced dancers…starting from basics eg, Swings, Stars, Back to Backs etc. progressing onto Baskets, Strip the Willow and more complicated figures.
Trying dances in different formations…2/3/4/6/ couple Longways, Squares, Sicilian Circles, couple dances….
An introduction to different sorts of stepping.. polka, waltz, rant, step-hop etc…
All done with endless patience and lots of laughs!
For Festivals this can be over several 1-2 hour sessions.

(See also Traditional Dance on this site)
Dance Writing
Aimed at those who wish to have a go at writing dances or participating in group composition. We usually work in small groups to devise dances, which people can then demonstrate to each other…(and there are always some very good dances compiled,)…along with everyone's suggestions for additions and improvements!
Popular at Festivals…but also suitable for other occasions.
---
"From late night festival ceilidhs where dance addicts enjoy improvising around some of Dave's much-loved dance compositions to weddings where someone vaguely remembers The Dashing White Sergeant from schooldays, Dave can cope with it all magnificently."
- Katie Howson, 'Old Hat'
"One of the most experienced and popular dance callers in the business, Dave is one of the few who can call brilliantly for children and hardened folkie alike."
- The Woodpecker Band
You've only got to look at the guy to know that you're in safe hands, he's been around, he's seen it all, nothing is going to cause him an iota of concern. It doesn't matter whether the dancers are 9 or 90 he'll have a repertoire of dances to suit.
- Burlesdon Band